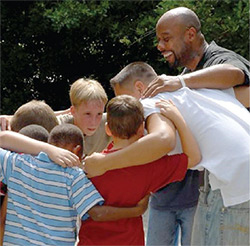 The supported foster home program is designed to meet the needs of abused and neglected children who are no longer able to remain with their families and are in the custody of Department of Children and Families. The program recruits, trains and licenses families who are willing to open their hearts and homes to our special needs children. These foster families and the children they serve are provided in home treatment including therapy and targeted case management. We also provide psychiatric overlay services for the children we serve.
The therapeutic foster care program offers: individual therapy, family therapy, crisis intervention, targeted case management, training, and family support. The supported foster care program will work with children between birth and 18 years of age. It works with both boys and girls and specializes in working with sibling groups. The children can remain in their supported home until they can return to their biological home, they are adopted, or an alternate placement plan is developed for them. Our foster homes are located throughout Pinellas and Pasco counties.
For more information on becoming a foster parent, you can contact us.
Our primary mission
Carlton Manor, Inc.strives to support children and families through the development of environments that promote emotional healing and behavioral change. We pursue a true partnership with each individual and family, striving to maximize growth, empowerment, stability and independence.